It's time for a GIVE-AWAY! Yay! The crowd goes wild! I am giving away a pair of 'Shimmer' earrings to thank all my fans, followers and friends, for being so supportive of wing by sea. Seriously if it wasn't for all of you, it would not have been half the fun.
These are the earrings you could win! Sterling silver earwires, with a dangling sterling silver ball, beneath which shimmying strands of sterling silver chain sway. I hope you love them, I think they would be perfect for celebrating in!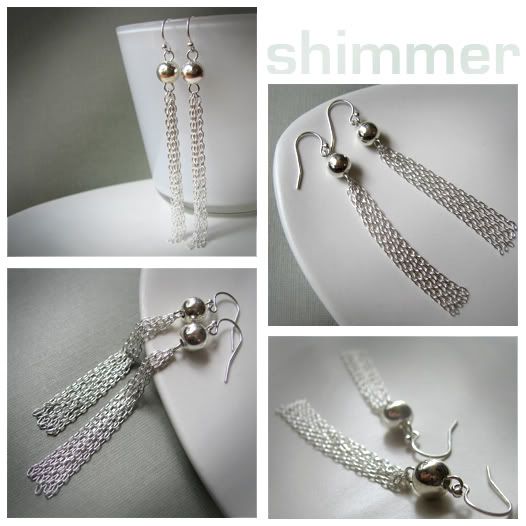 How to enter:
Well it's super simple!
All you need to do to enter is visit either of my shops and come back here and let me know your favorite piece of jewellery! I'd love to know what you all love ;)
wing by sea on Etsy -
http://www.etsy.com/shop/wingbysea
wing by sea on MadeIt -
http://www.madeit.com.au/wingbysea
For a second entry, tweet my giveaway - include @wingbysea in your tweet, and come back here and let me know you did!
The winner will be chosen by a random number generator on Saturday the 25th, entries close at 9pm (Sydney, Australia time!). Please ensure to leave some way to contact you, or check back here Saturday the 25th to see who won!
Thank you and good luck!
This promotion is in no way sponsored, endorsed or administered by, or associated with, Facebook.