There is the most gorgeous little shop near me called
Little Paper Lane
. One of those shops you always turn to catch a peep at when driving past (as a passenger of course, ahem!). Well after months of saying "I must go visit, I must go visit", my need for a diary - yes, I know, it's already February - drove me to make the time to visit. And how fabulous, even with the little man in tow. Not only did I get a funky little diary, perfect for scrawls and scribbles, lists and notes, I bought washi tape! Silver washi tape! And some baker's twine in black and white. And this is what I did with it!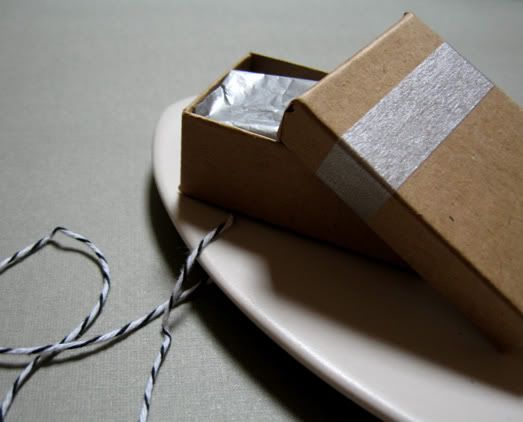 The silver washi tape looks lovely with the silver tissue I use for wrapping my jewellery, and I like the simplicity of the twine.
While I was in the shop I spotted lots of familiar works by Australian creatives
Pocket Carnival
,
Benconservato
,
Little Mo
and
Red Letter Studio
. I think I will be visiting again soon, this time without the kidlet so I can dawdle just a bit longer. Might need to take a packed lunch.